Camellia Brand Forges Partnership with Award-Winning Chef Alon Shaya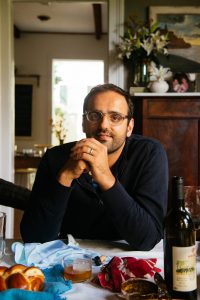 Camellia Brand, is pleased to announce it has named James Beard Award-winning chef and philanthropist Alon Shaya as brand ambassador. Shaya is proud to use Camellia Brand's premium products to create flavorful meals that bring individuals and communities together.
"We couldn't have found a better partner than Alon Shaya," said Vince Hayward, fourth-generation owner and CEO of Camellia Brand. "Like Camellia, Alon understands the power of food and community. His success in the culinary industry and commitment to quality products make him the perfect representative for the Camellia Brand."
About Alon Shaya
The Israeli-born chef gained recognition through Domenica, Pizza Domenica and Shaya, the three celebrated New Orleans restaurants he started and helmed as executive chef and partner. He currently owns two new restaurants: Saba in New Orleans and Safta, which is set to open in Denver later this summer. His culinary journey and resounding love of Israeli and Italian cuisine is reflected in his cookbook, "Shaya: An Odyssey of Food, My Journey Back to Israel."
Last year, Shaya and his wife, Emily, formed Pomegranate Hospitality, a restaurant group dedicated to creating meaningful and lasting relationships for all involved to prosper and achieve their personal and professional goals. Tapping into the philanthropic community in New Orleans and beyond, Shaya uses his culinary talents to support various nonprofits. Through his partnership with Donna Barnett, his high school home economics teacher, he started the Shaya Barnett Foundation, an organization committed to providing culinary education and resources students.
"Camellia's beans, peas and lentils have become a tradition in our household," said Shaya. "We can trust that every week when we cook with Camellia beans, not only are we making a delicious meal, but we are staying true to our love of creating dishes that are rooted in tradition and culture."